The Droid 500 29-30 September 2021
"I'm coming up to my COVID-500 ride", said Droidy whilst out on an easy ride, and I immediately knew what was going to happen next. He continued, "I think I should do something to mark it, what do you think?". Of course, we were both thinking the same thing, 500KM ride obviously…" but don't feel you need to do it", he said. I said I would think about it, after about 10 seconds, I said of course I would, how could I not!
After some discussion about the route, we settled on one massive loop, the alternatives just didn't seem as exciting or as big an adventure. So Droidy put the route together, 500KM starting in Ewell and ending at the top of Box Hill, where else!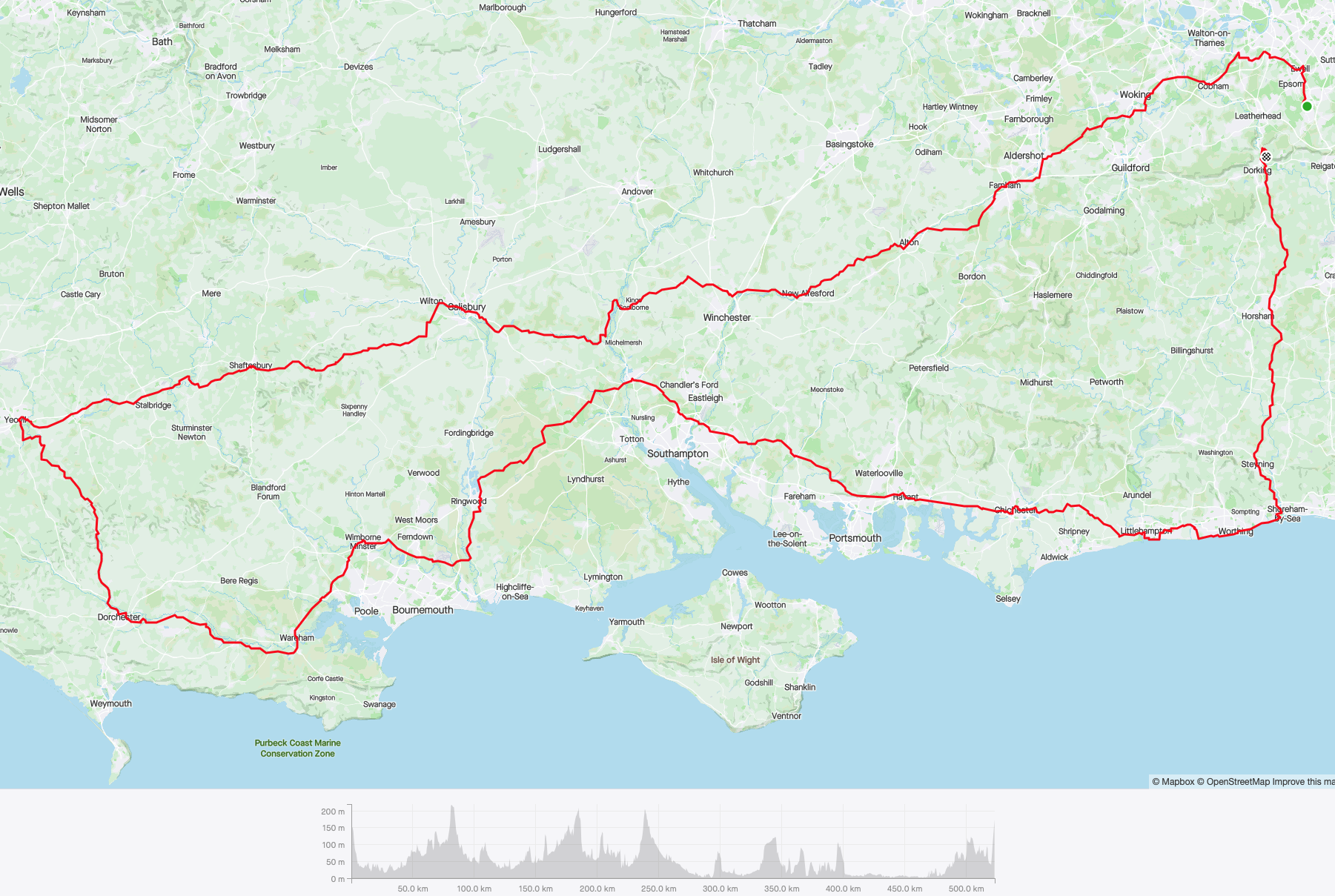 We managed to rope in another victim, sorry I mean co-rider, Tony G and the date was set for Sunday 29.
Droidy and I met at 5pm at Ewell Texaco, the thought was to ride through the night to avoid traffic as much as possible. We were met by Marcus who led us out, rather quickly, to rendezvous with Tony in Cobham, losing my main light en route (luckily, we had spares).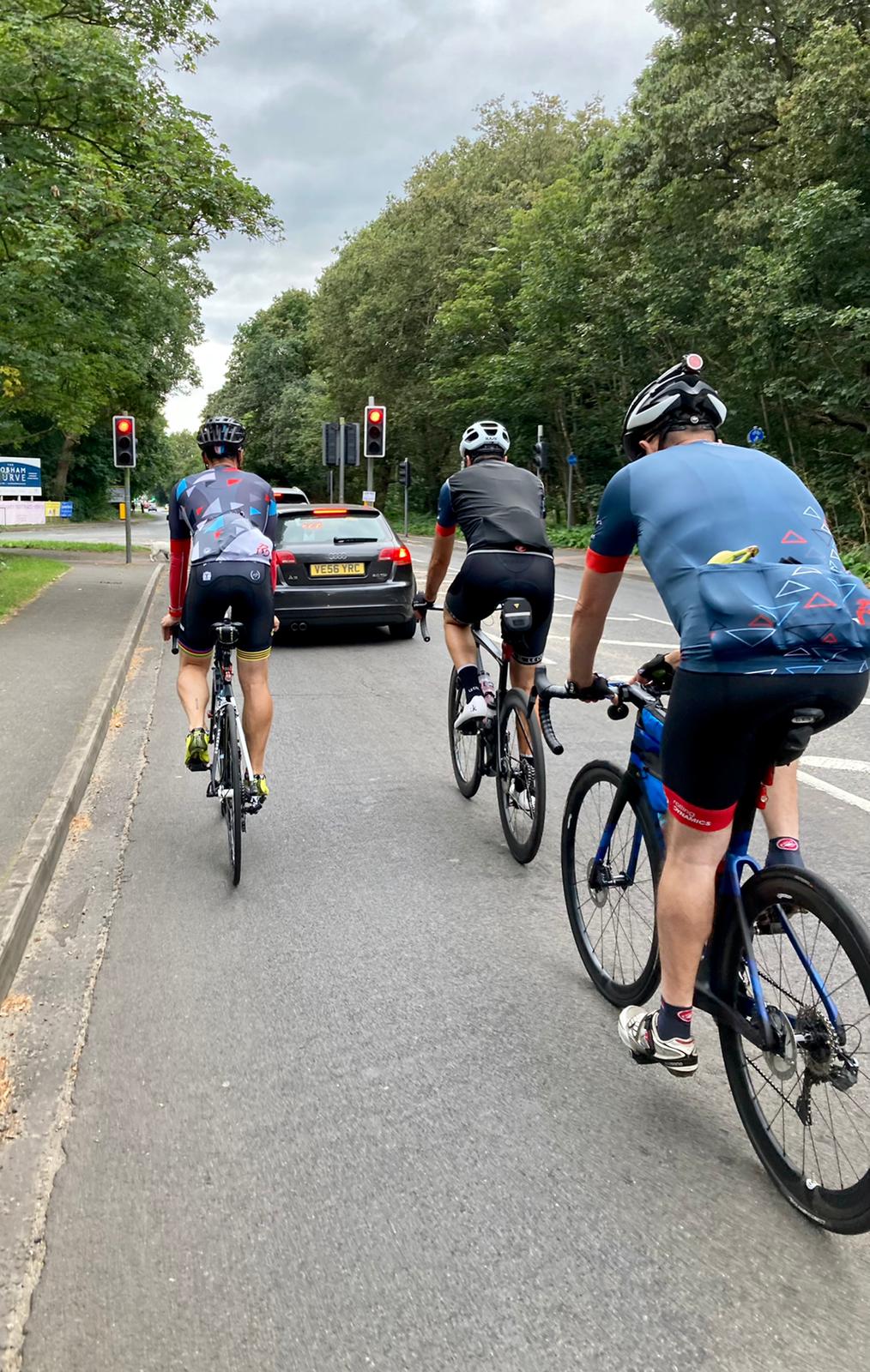 The plan was to stop every 70KM or so, mostly at well researched 24-hour services stations along the route. And with a gentle tail wind we were very quickly at our first stop. This set the theme for the rest of the stops with a healthy collection of loan drunks, shady looking youths and not so pro-cycling food.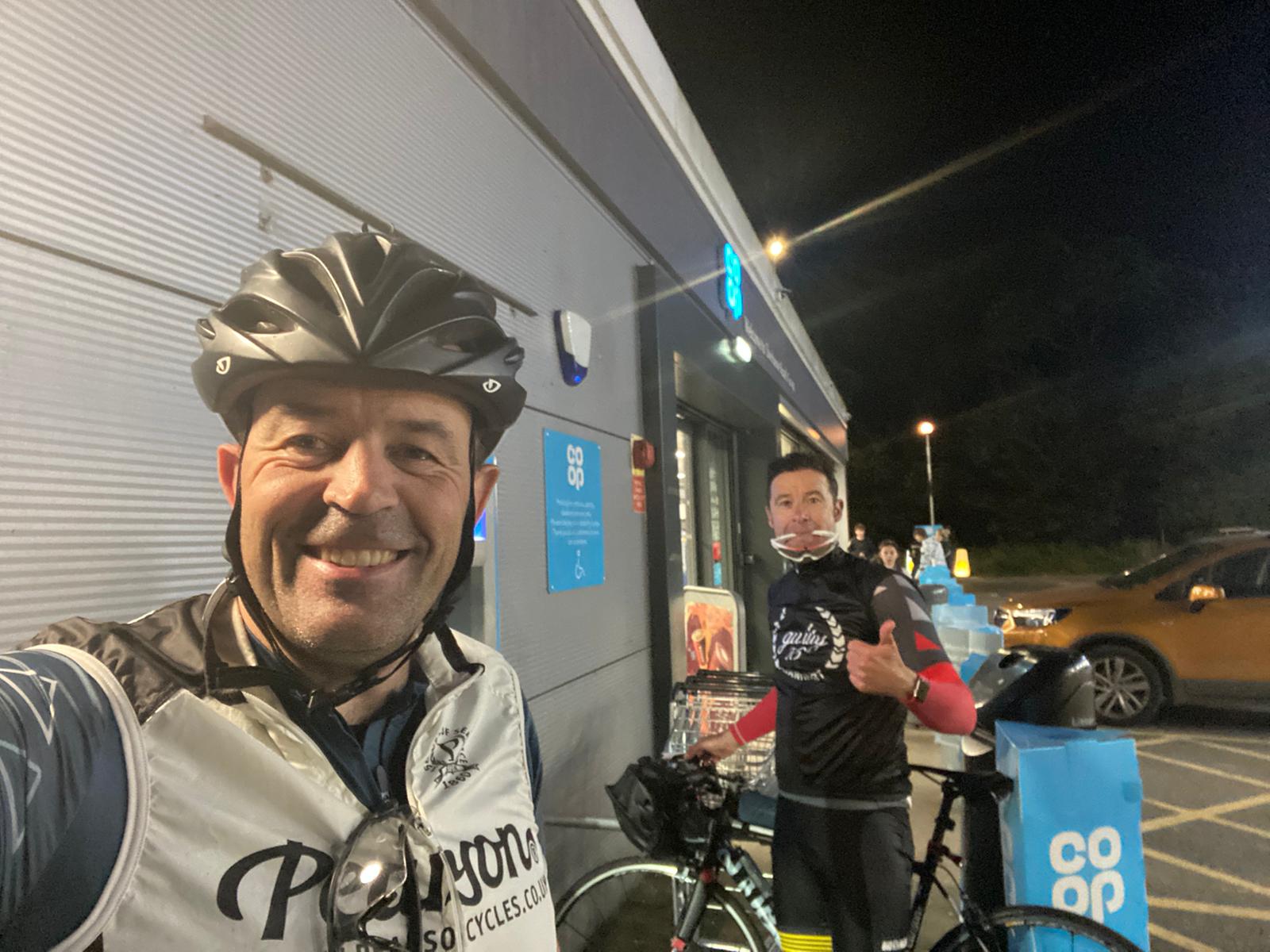 The average speed stayed steady at around 29KM/H thanks to little or no wind and no traffic through the night. And apart from a slight navigation issue causing me to almost rear-end Tony and a hedgehog almost taking me and Droidy out the night was without incident.
Not seeing the Cerne Giant just before Dorchester was a real high point of the night…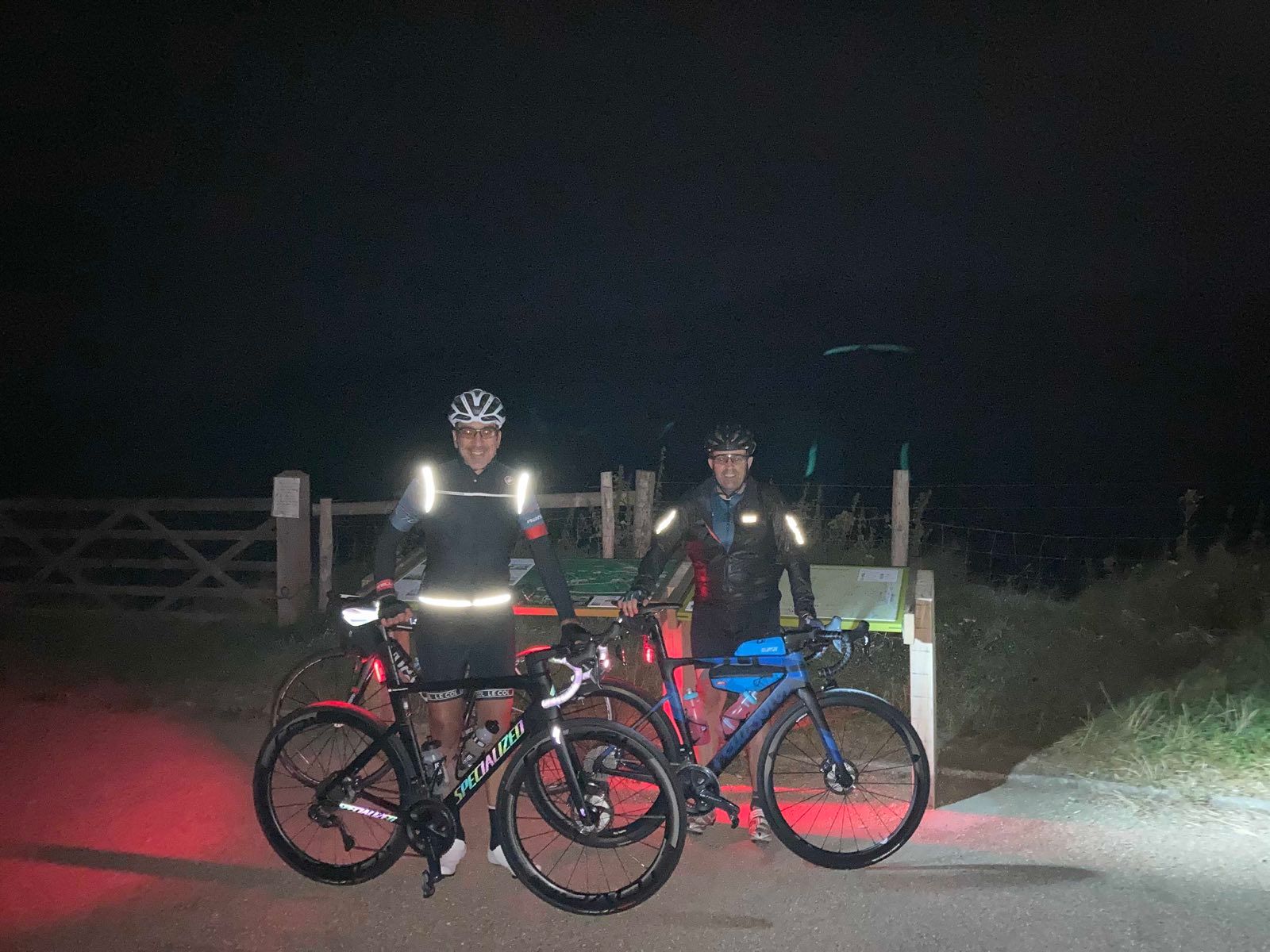 I'm sure if you look really carefully he is there lurking in the background somewhere!
Things started getting harder around Dorchester as we turned into the wind, which seem to get stronger by the day. We came across a public toilet with mixed emotions, Droidy decided it was too much like something out of Train Spotting and decided he would hold on, not so for Tony…in fact he seemed to be invigorated by the experience.
Continuing we hit some strong headwinds in the New Forest, working together we managed to get through it, but it took a lot out of us, especially me, I started to struggle around Southampton up a moderately steep hill.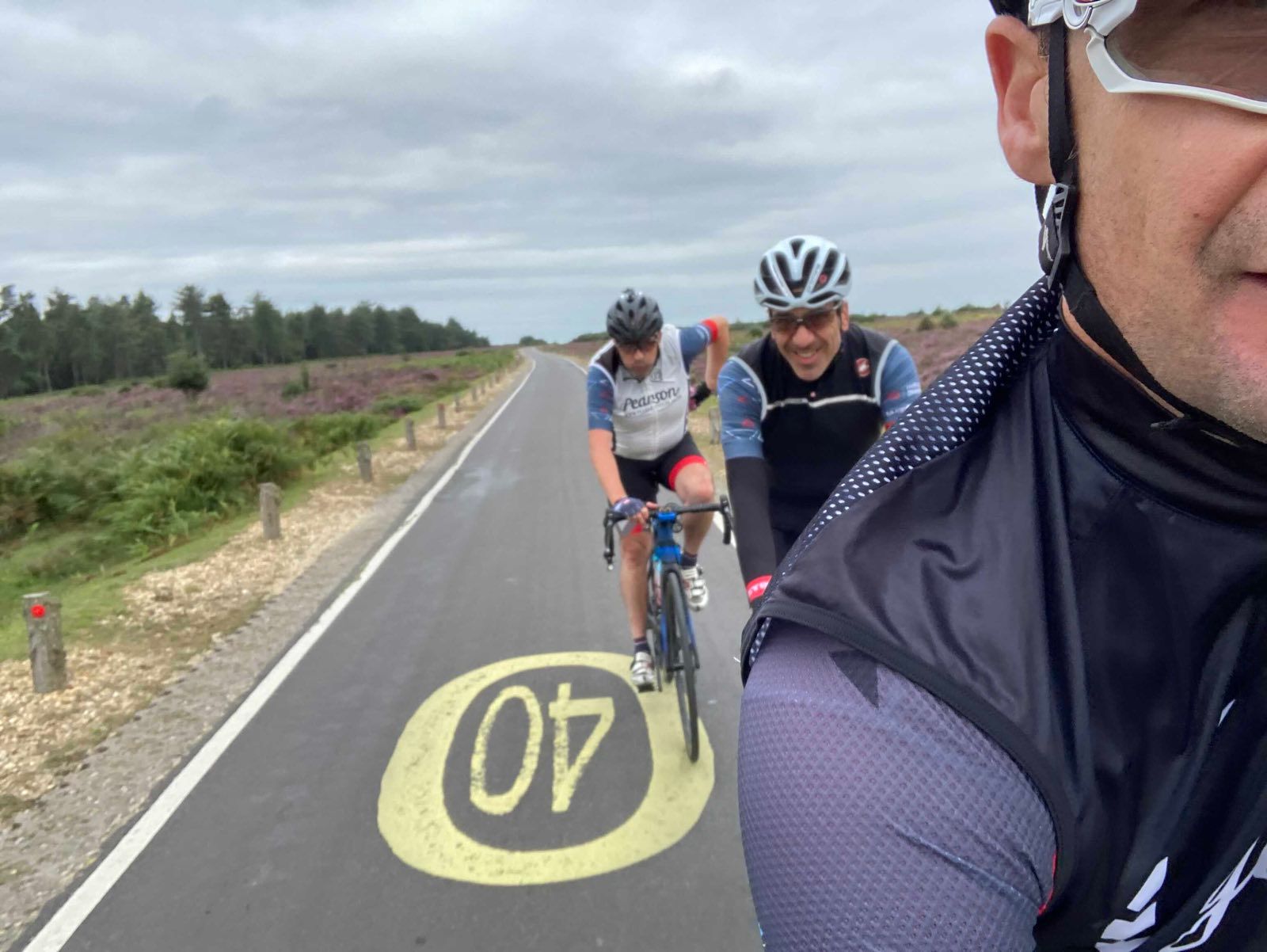 As you can see Tony looks really happy on this picture.
Thankfully, Chris B, met us just outside Portsmouth, he came down by train to ride the last 150KM or so with us. Not surprisingly he spent the whole time on the front shielding us from the persistent NE wind.
By now or average speed dipped just below 26KMH unsurprisingly but we managed to sustain that until the end, which was surprising.
We continued on to Worthing where we stopped for some proper food, sausage and egg all round and a decent coffee, sitting down, without drunks and the only mad people around were us. After a 'leisurely' lunch we headed north for the last 50K or so, personally starting to feel a lot better with the only scary climb at Rusper.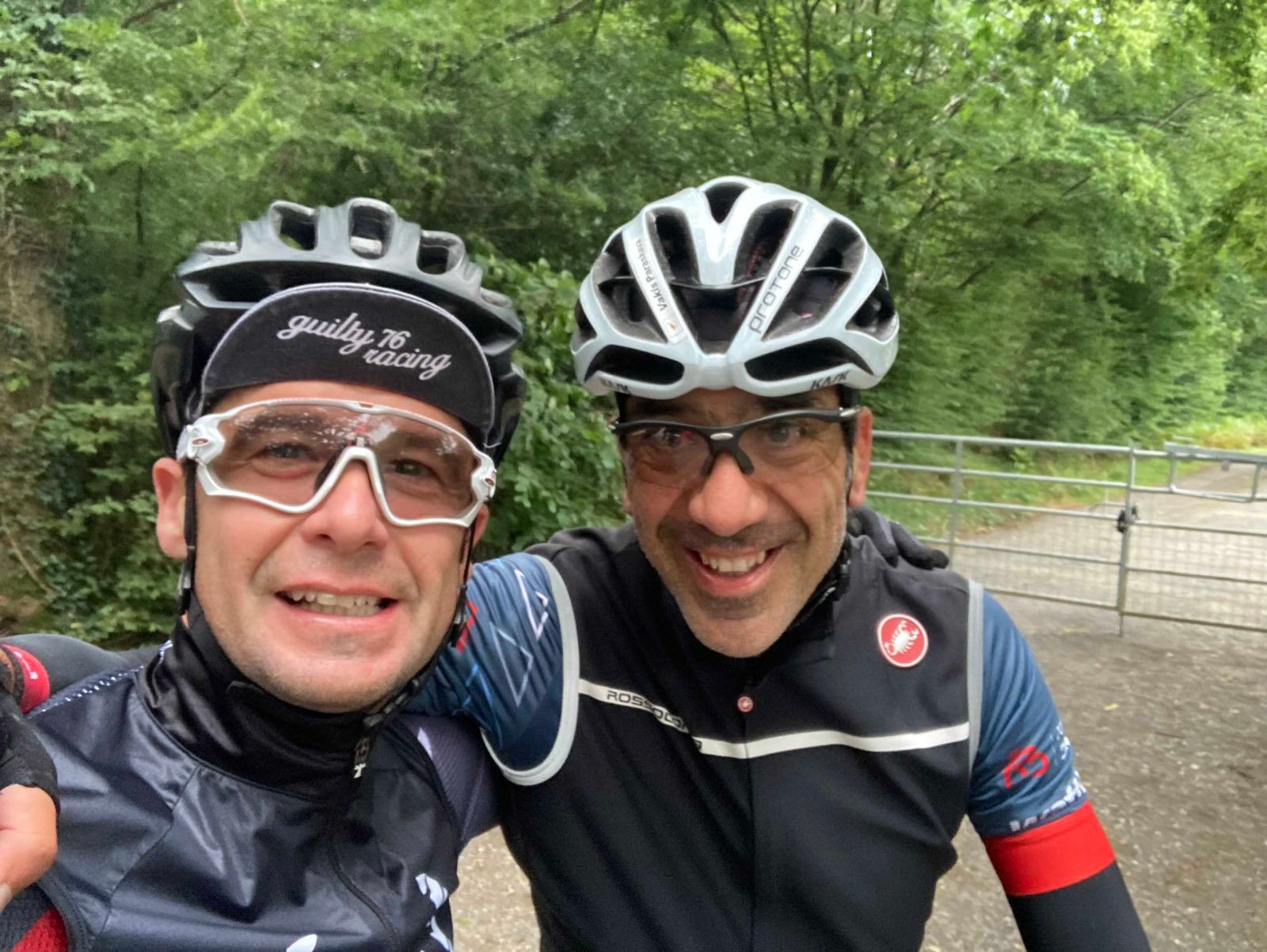 I hit the 500KM mark at the bottom of the hill at Rusper, buoyed by that I got up it easily enough and Droidy hit his 500KM at the top. We stopped for a quick photo op and shortly after that my body started to shut down. I got as far as Newdigate where I had to stop before I fell off the bike but after being forced fed gels, caffeine blocks and Haribo I was quickly back.
With a steady ride to Box Hill and an even steadier climb to the top we were met by Mark D, Hummy, Sharon, Debbie and Kim, with dinks and pizza…what a sight for sore eyes, Hummy's smiling face was a sight to behold!
Remarkably Tony hit his 500KM exactly at the top of Box Hill, I suppose we should not be surprised about that.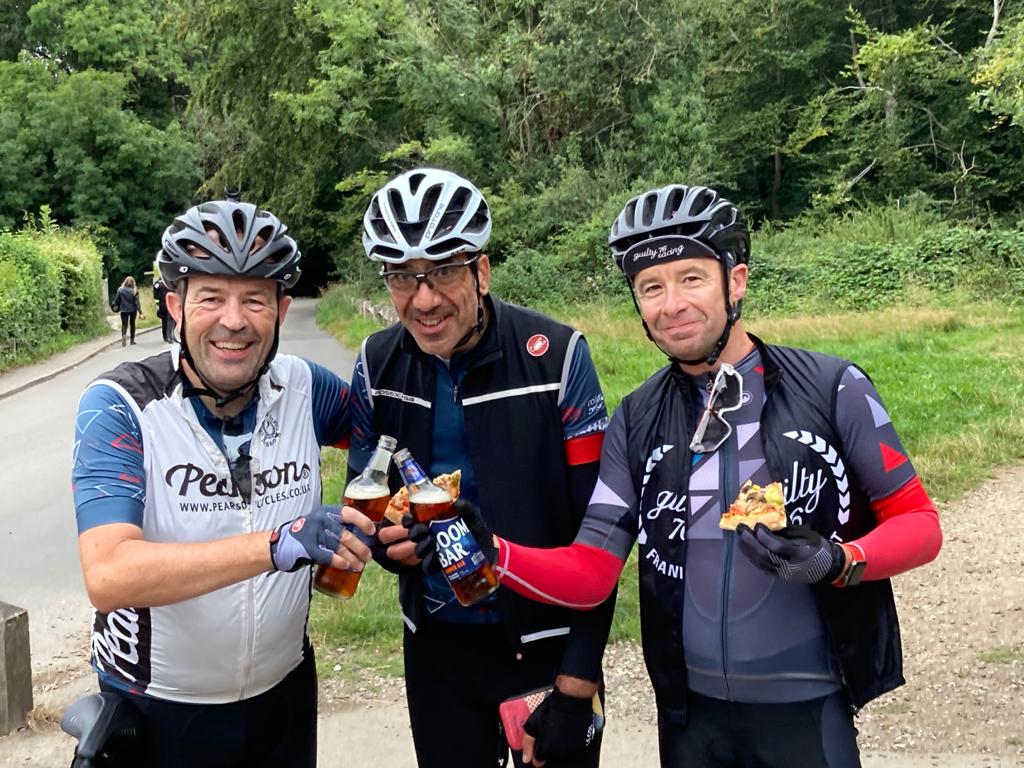 So, what was harder, Everesting or 500KM in a single ride, we have been asked and we have been considering. Droidy thinks 500KM is harder, Everesting would have been much easier if the weather was on our side but I am not so sure, maybe someone else should try it and come back to us on that…
It was a great adventure, with some great moments, done with great friends, and for a good cause, The Diamond Centre For Disabled Riders in Carshalton, so far we have raised £1,250 (£1,538 with gift aid), a big thank you goes out to everyone who donated.
Now what's going to be the big one next year Droidy?
STATS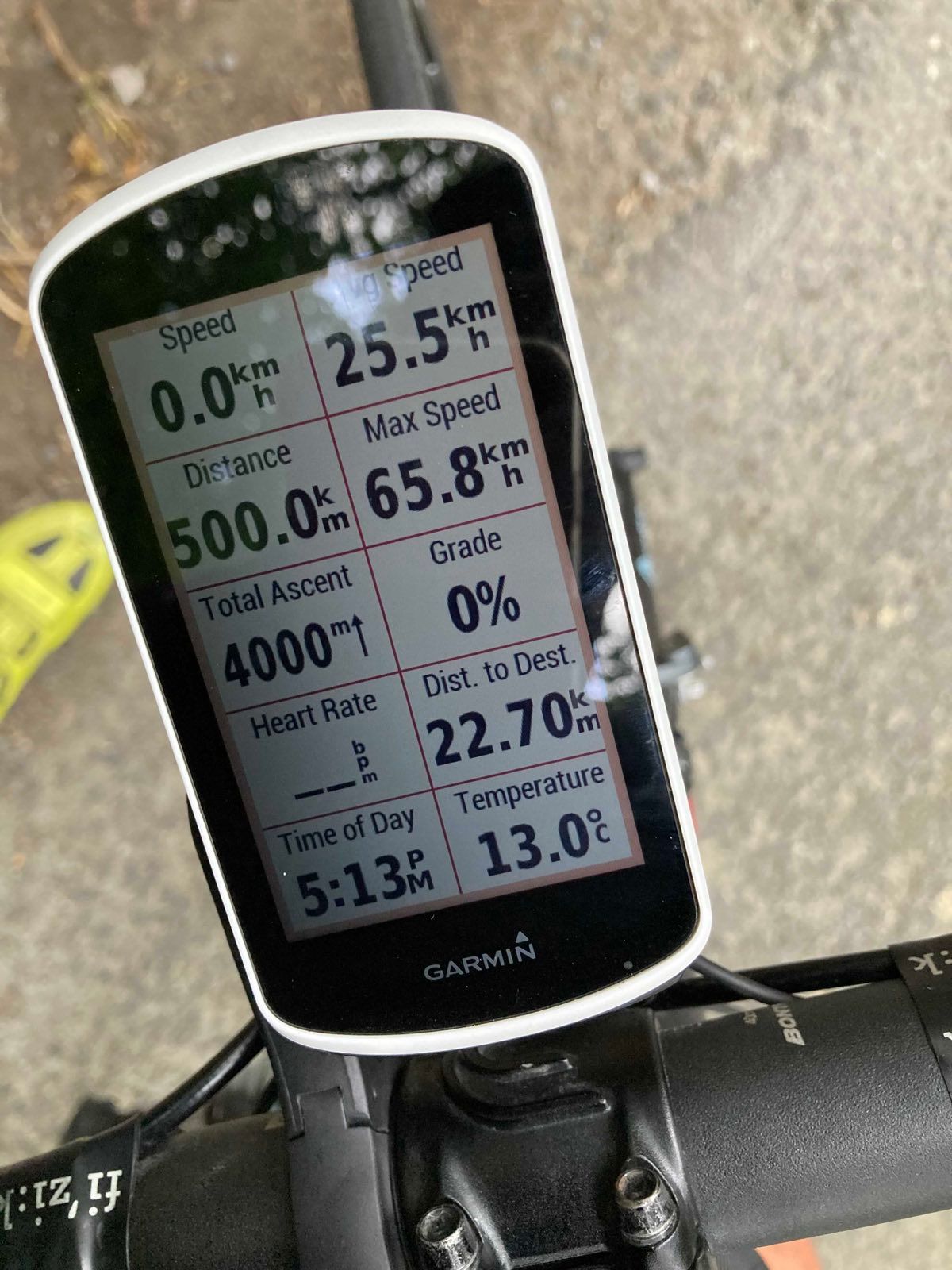 Distance – 500KM+
Elevation – 4,000M+
Ride Time – 20.5 Hours
Elapsed Time – 25.5 Hours
Punctures – 0 (remarkable considering I was on those paper-thin S-Works)
Donuts – Lost count
Jokes – Lots at the start, no so many at the end
Garage forecourts – Too many