20th September 2020 - RDCC plus guests completed two great loops made up of our original Stonehenge ride earlier in the year. One loop was complete Stonehenge ride of just over 300KM and the other a shorter 200KM ride. For both Covid-19, speed and safety reasons we split into four teams...what follows is a view from each team...
Team Jumbo Sausage Roll by Tony Gordon - 200KM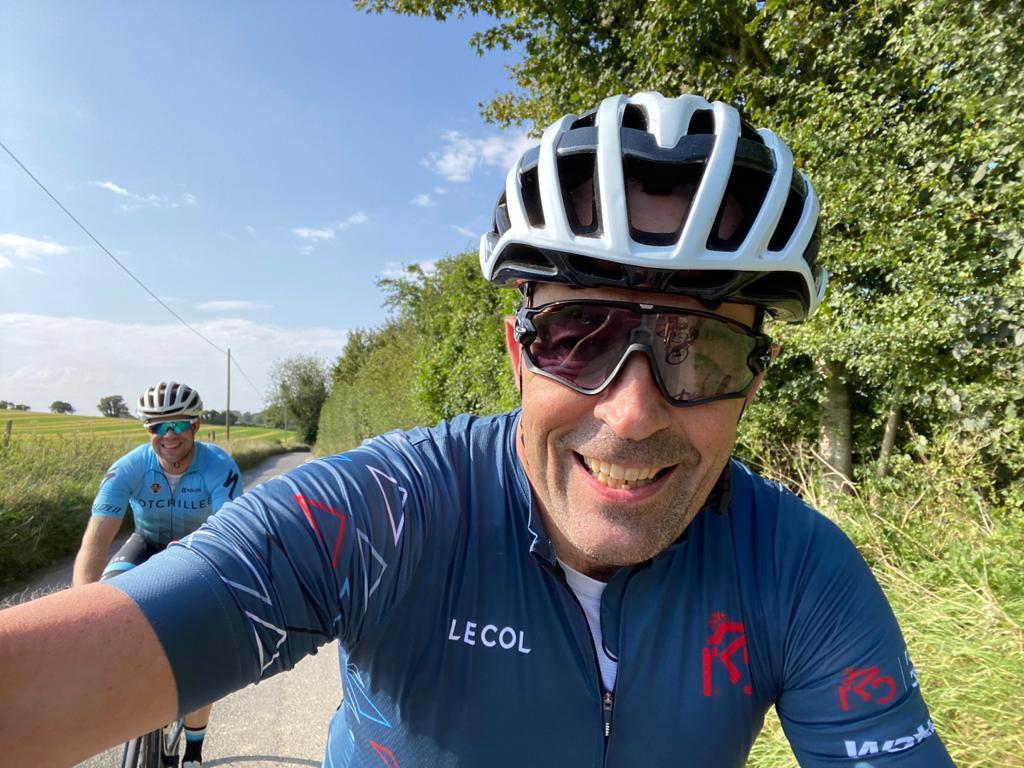 After Vakis and Andy's (aka Droidy) tales of an epic 300K mid-summer trip to Stonehenge there was lots of talk at RDCC of another trip using the same route. Although with the complication of the CV19 "rule of six" regulations meant that four groups of six were organised and after a mere 300-400 What's App messages, with some distance options. 300K in the middle of summer is brilliant, start early in the light and finish in the light, as we at RDCC did for the London Ultra route, but in September with a start and finish in the dark, it didn't have quite the same appeal for a few of us. So some of us decided on the "sensible" option of a mere 200K, but taking in many of the best roads of the longer route.
Even better a few of us were set to meet a little distance from the start which meant for me a 300m roll down the hill and 45mins extra in bed. Result. Our group, Hummy (the train), Greg (more tanned than Nairo Qutinana), Piers (on his immaculate De Rosa), myself and Andy (looking like a GC jersey leader in his Hot Chillee kit with his RDCC team), met me at 6:20 and we set off just behind the Virtual Cobham dads. A situation that would continue all day! The 300K groups were off even earlier but we saw the Vakis/Droidy/Kim/Terry/Marc group a few times during the day too.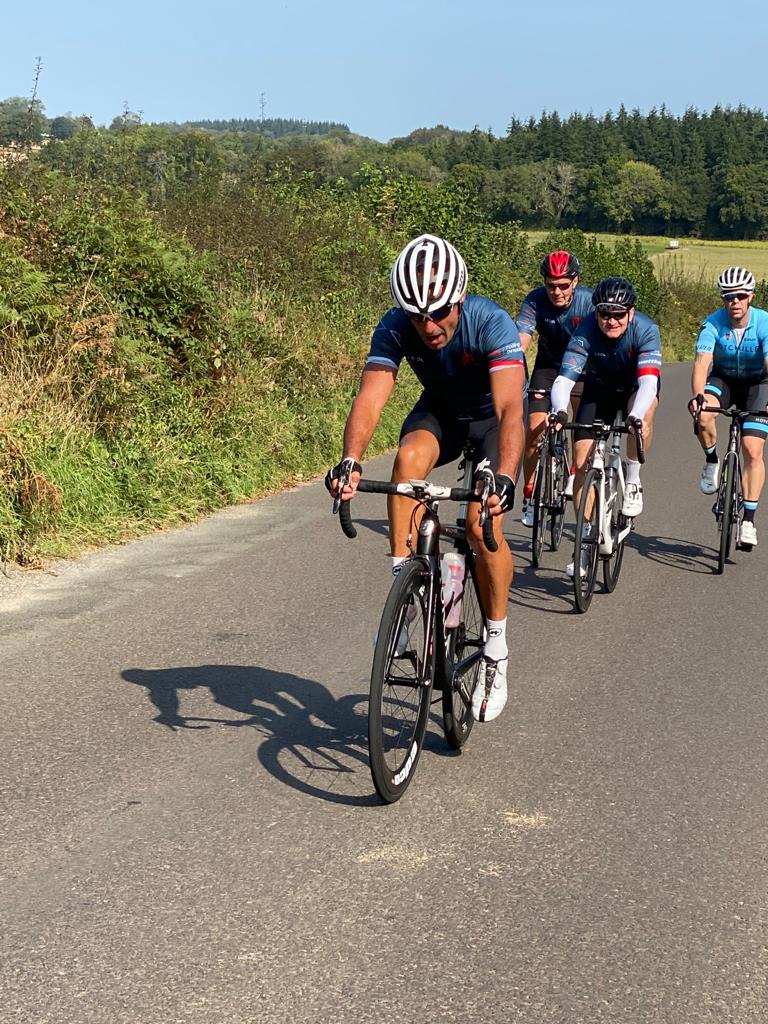 Our route started off on well known local roads but riding them early on a Sunday morning in unseasonal warmth with a lovely tailwind and Hummy's usual initial (very rapid) ride pace, made even the local roads a pleasure. Through Guildford, up to the Hogs back and then down into a seemingly endless blur of country lanes via Elstead, Churt, north of Borden, to Alresford. Some of the lanes were tight bumpy/twisty/covered in gravel and others were long swoops of smooth tarmac, a real mixture but what a superb ride. Our first stop at Alresford came almost too early for me at 90Km but a double expresso and cake went down well.
Soon we were off and back in a tight pack of 5 only for "someone", no names, to realise that they had left their bottles in the café. Then there was a slightly demoralising wait, as the Cobham Dads and Vakis's group swept past as we waited at the side of the road. Bottles retrieved we were back on the road as we continued onwards west, to Crawley (no not that one, the other one near Winchester). The day had also heated up for some unseasonal mid 20's September warmth. Lovely. As the 300K riders continued west our route started to head north and then north east, you felt first the touch of a cross tailwind, then cross headwind and finally niggly headwind, which was set for the rest of the return journey. Then we seemed to be in an succession of endless rolling straight (Roman?) roads to Sutton Scotney, past Micheldever Station, then back into lovely little quiet lanes onto our next stop at North Waltham where the Cobham dads were already having a feed. 80km to go.
At this point it was time to dig in on the hills, take turns on the front in the headwinds and push on up the climbs. Andy was beginning to have knee pain (painkillers were taken) and the rest of the group took turns on the front. Legs were looking tired for some of the group.
The little lanes continued and it was almost a shock to be back in traffic with lots of people as we came into Farnham. Looking for a last Coffee stop we turned off the high street and who was already at the coffee shop, the Cobham Dads. Great minds thinking alike etc.. A last coffee and it was back to more familiar but sadly busy roads as we headed through Ash, North of Guildford, via Ripley to Cobham and the start. At this point I peeled off to avoid the traffic, Hummy went for a sleep in a pub garden (yes really) and Greg/Andy/Piers bashed out the last miles. For Piers this was to be his longest ride ever and he was looking strong at the end.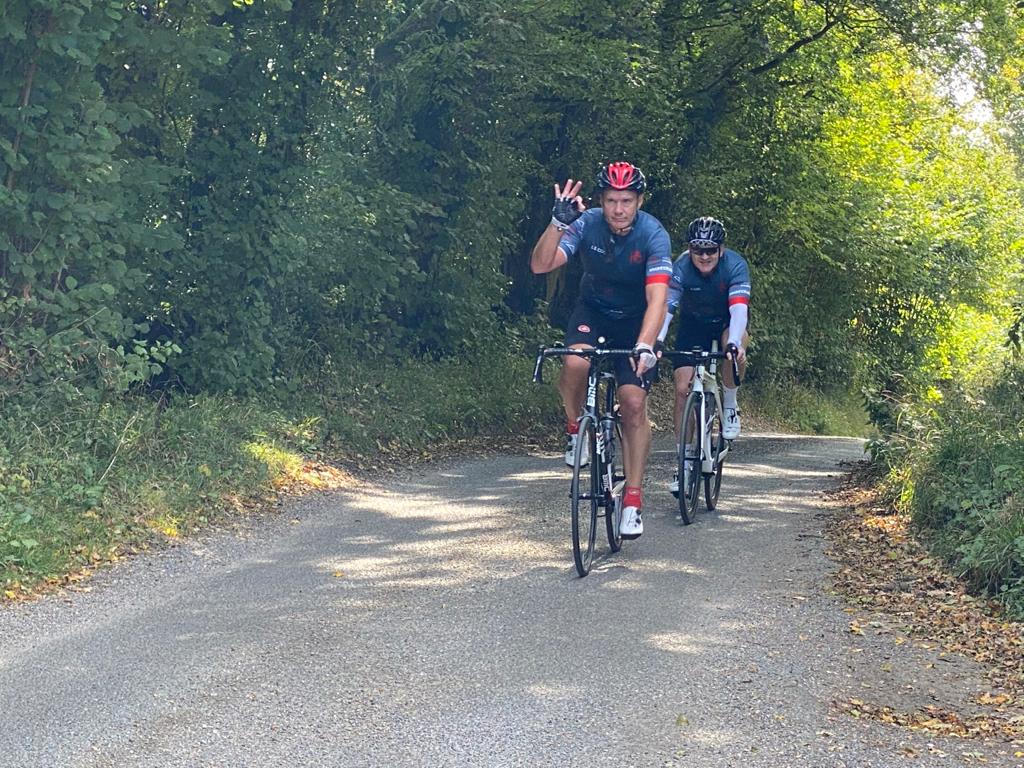 So in summary, a great route with a really harmonious group and we were so lucky to have fabulous weather. What a way to finish off the cycling summer.
Team 4 Cobham Dads + 2 RDCC Dads + 5 Specialized bikes & a Dogma! by Mark Dressel - 200KM
This was Group 2 of the 200k route and what a day it was!
After rolling to Fetcham where we picked up our CDVC guests we cruised to Guildford grinning from ear to ear and contemplating the much anticipated Hampshire lanes that lie ahead. A big part of any ride is the enjoyment of a new route and unexpected twists and turns. The not knowing what's coming up is all part of the adventure. Coffee#1 was the first panned pitstop @ 85km and we bowled into New Alresford 3 mins ahead of schedule to find it already open!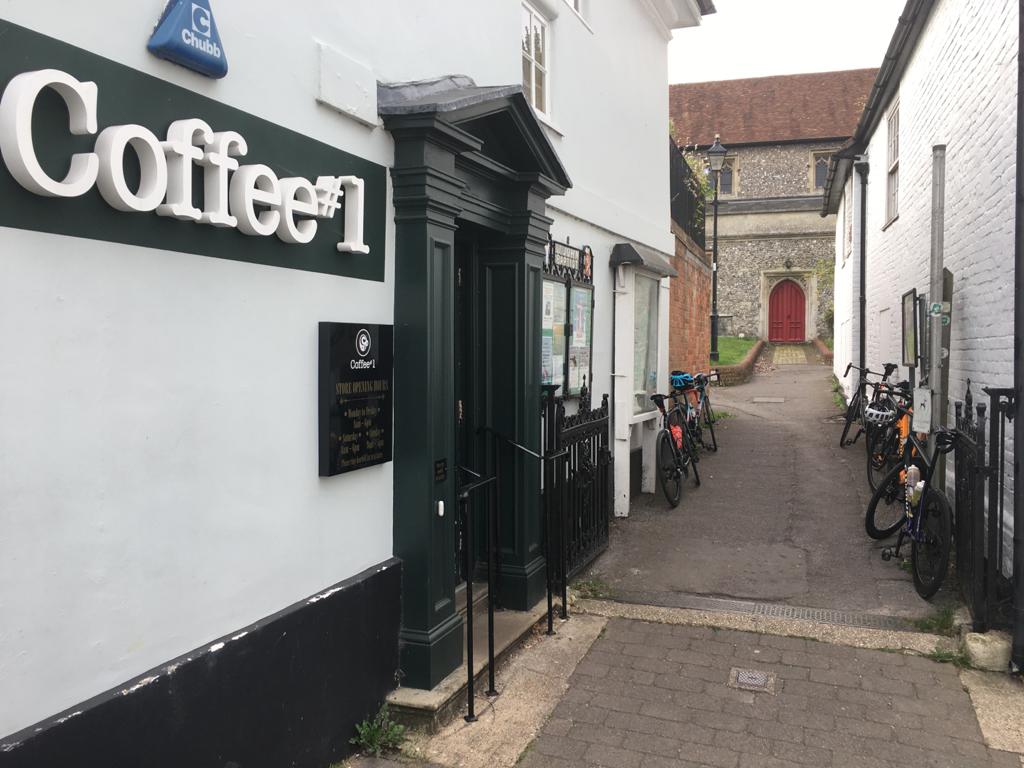 A few minutes behind us were Hummy's Team Jumbo Sausage Roll, followed by VP's Group 1 - 300k who had suffered a puncture in broken glass. It was great to see the other riders briefly, maintaining socially distanced non-mingling of course.
Pitstop 2 was only 40km further on a we pushed on, enjoying a real blast up some of the longer bigger, but still empty, roads. What was noticeable in this middle section was the gentler 2-3% gradients but long and relentless stretches.
We stopped at Oak Farm Stores for a sandwich and drink and waved a fly-by from Team Jumbo Sausage Roll.
Only 35km to Farnham and our final refuel stop back in this pretty Surrey town. CDVC's Oli Glasgow noticed a soft rear tyre (our only 'mechanical' of the day) so a swift tube change saw us on our way.
With a final push towards Cobham, where the CDVC Dads diverted to home, it was left for Paul Sabol & me to chew up the final few k's into Epsom.
One of the best rides this year and a fabulous substitute for not being able to get to France. The group worked really well together in well-drilled formation, with great banter adding to the overall speed and enjoyment.
A really super day for the club. Thanks to VP & Droidy for the route planning and MRB for orchestrating the riders.
Team Droidy by The Droid - 300KM
300k group 2 consisted of Vakis, Terry Shepherd, Marc Ravetto, Kim and Glen Karpeta and Myself.
Vakis, Marc, Terry and I left Epsom just after 5.30am, heading through Ashtead to Guildford via Bookham.
After a mere 15k we encountered our first issue, Vakis was unlucky enough to ride straight over a broken bottle, but lucky enough to cause only a small puncture which then pinched on a pothole!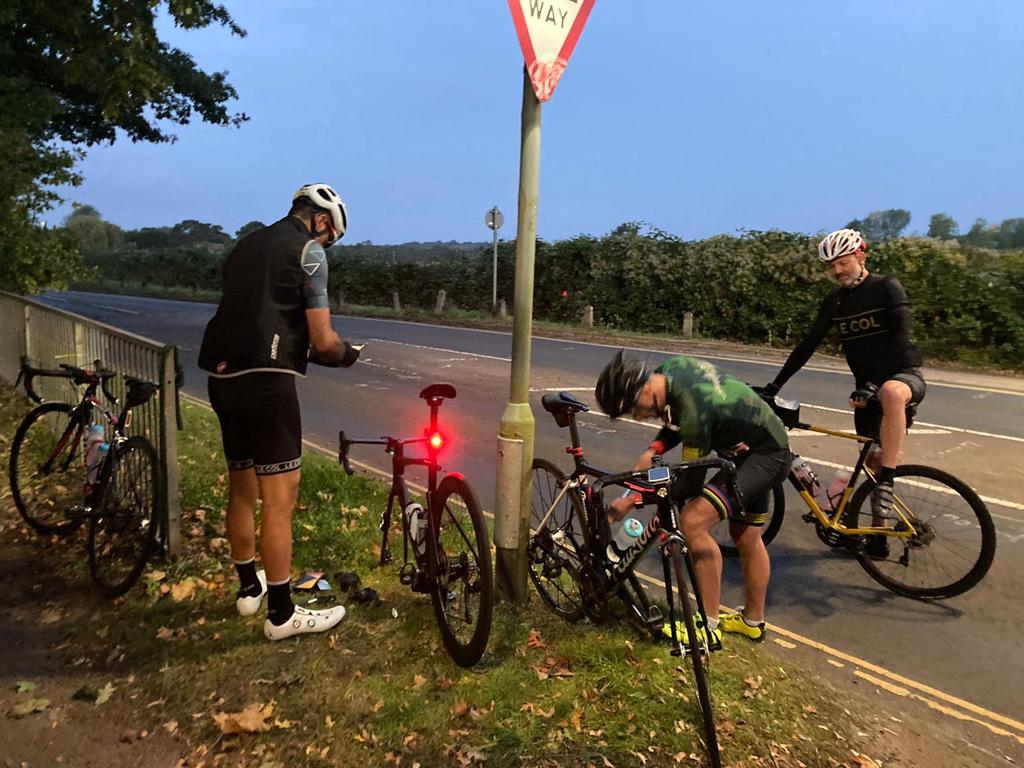 We repaired the puncture, unaware there was still a tiny piece of glass in the tyre, which then caused the second puncture of the day before we had left Bookham. Terrible start to a very long day.
All the delays meant we were passed by the first of the 200k groups, which we managed to follow (at a safe distance) up to Guildford, where we met up with what appeared to be Kim and his Clone. Turns out Kim's brother looks and sounds more like Kim than Kim does. This led to us spending the whole day not knowing which of the brothers we were talking to.
The route up to the first cafe stop in New Alresford was a cat and mouse race with both the 200k groups, passing each other at various places.
Coffee#1 was the venue in New Alresford, refuelling with bacon rolls and coffee, and a chance to say farewell to the 200k groups as the route splits at around 100k.
The remainder of the journey west was predominately down wind, so we made great progress past Winchester, Stockbridge and south along the River Test. We had a short pause in Stockbridge while Glen fixed a puncture caused by a pothole on the fast descent into the town.
Lunch was in Salisbury, courtesy of The Cornish Bakery, where we tucked into large Cornish Pasties, valuable fuel for the return trip which would be a fight against the solid NE breeze.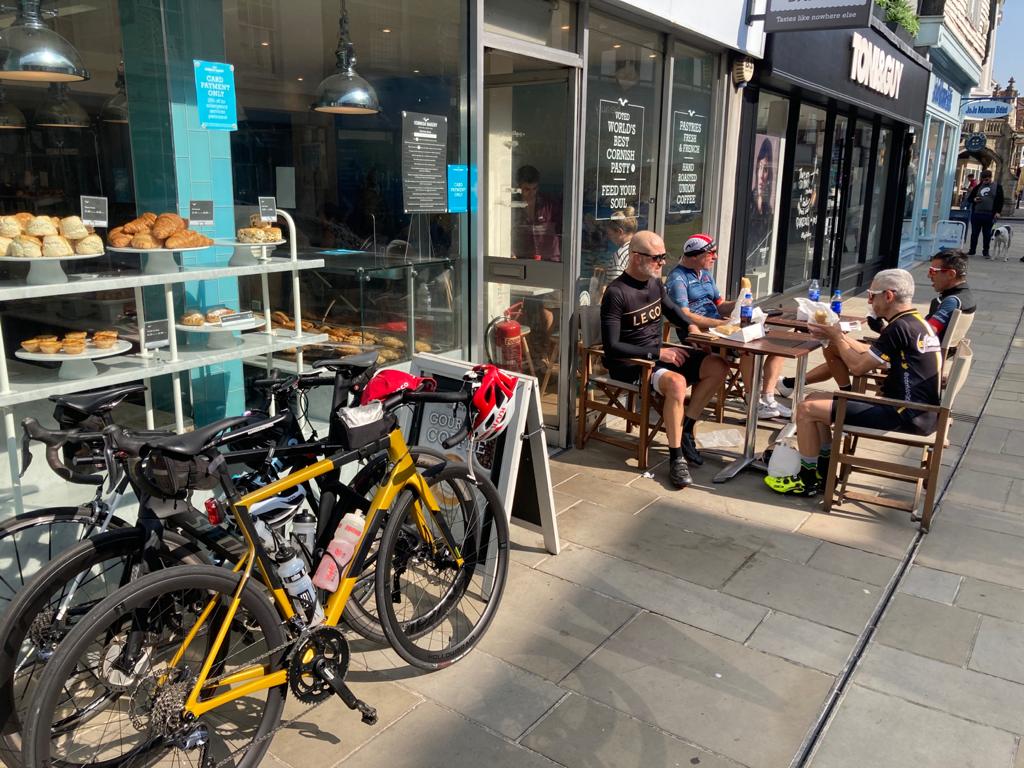 From Salisbury, there's a 15k trip north along the River Avon to the main event - Stonehenge.
Difficult to access on a bike, we had to negotiate the A303 on the pavement and made our way up to the stones on a grassy path where we were able to get to the perimeter fence, a few yards away from the stones for selfies and a well earned rest in the sun.
Vakis explained a few facts about the stones and how they got there, he seemed very knowledgeable, I think he was there when it was built.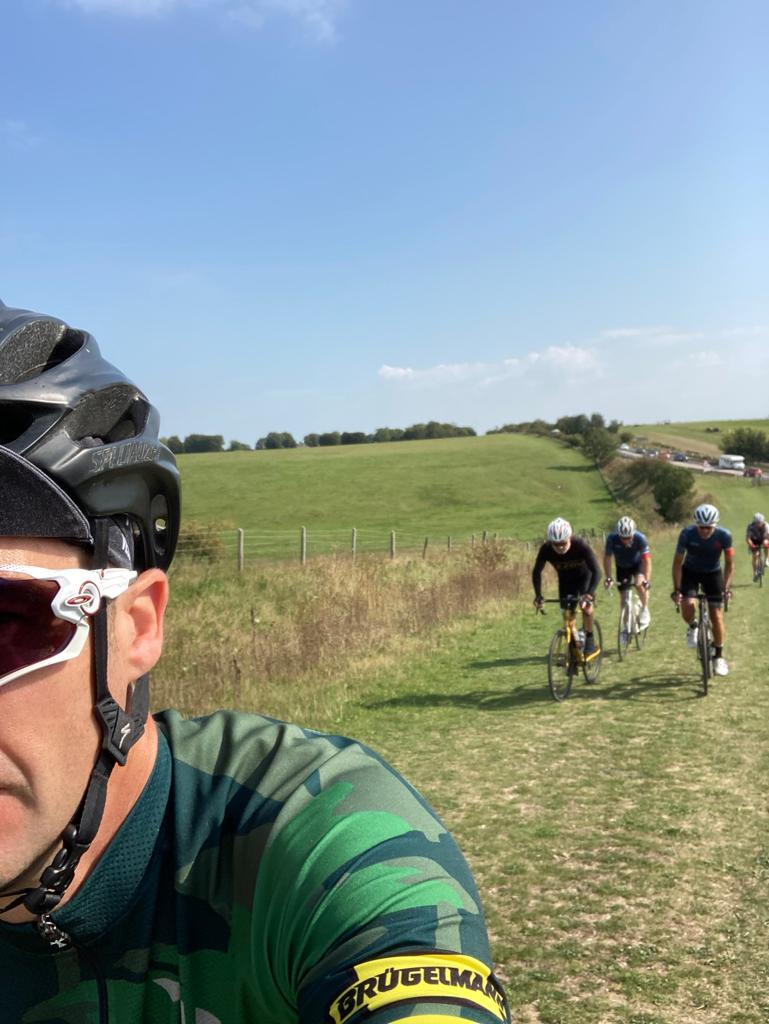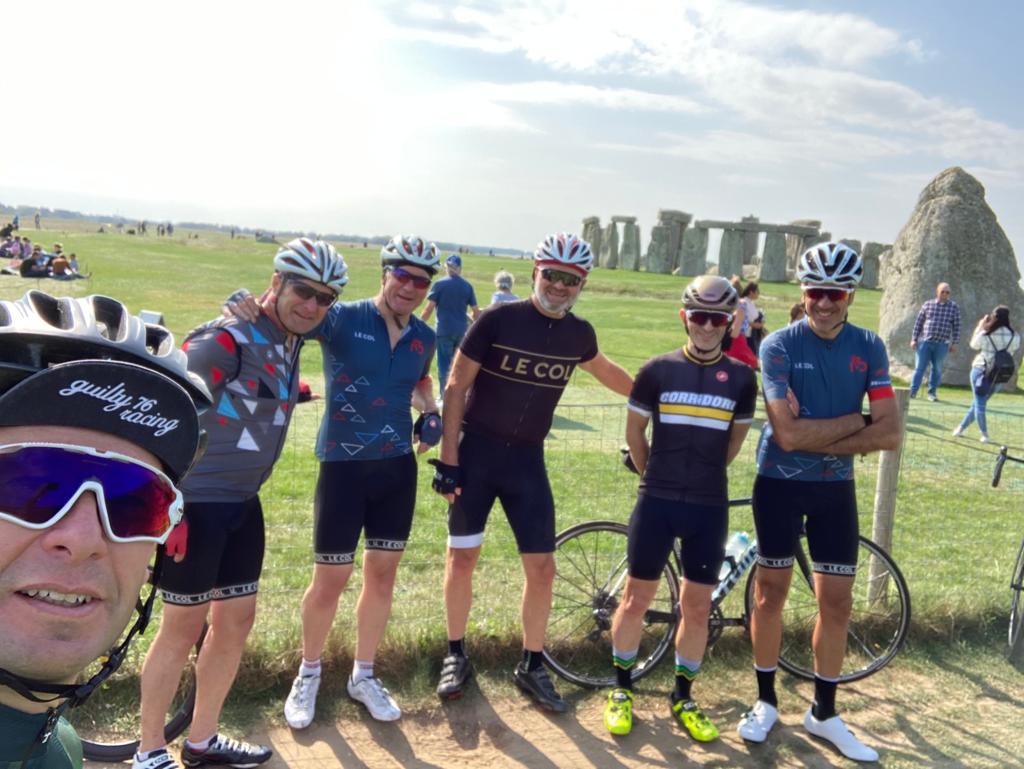 The early part of the return trip was, as expected, into a solid head wind, so we managed to get ourselves organised into a well drilled chain gang to spread the effort.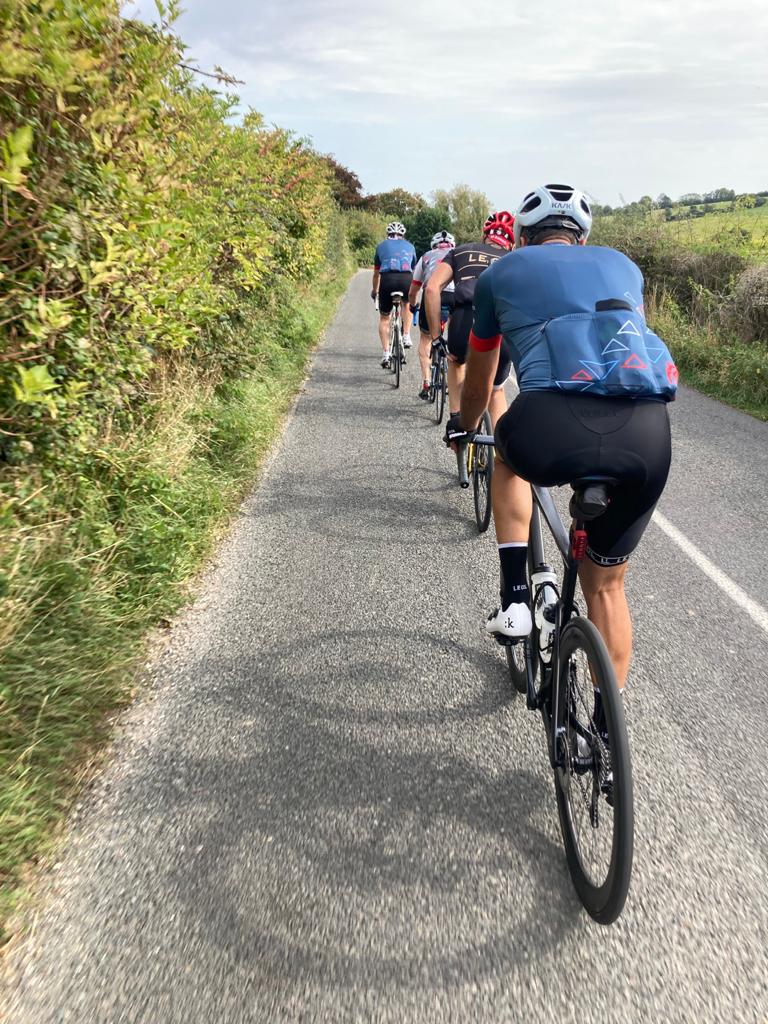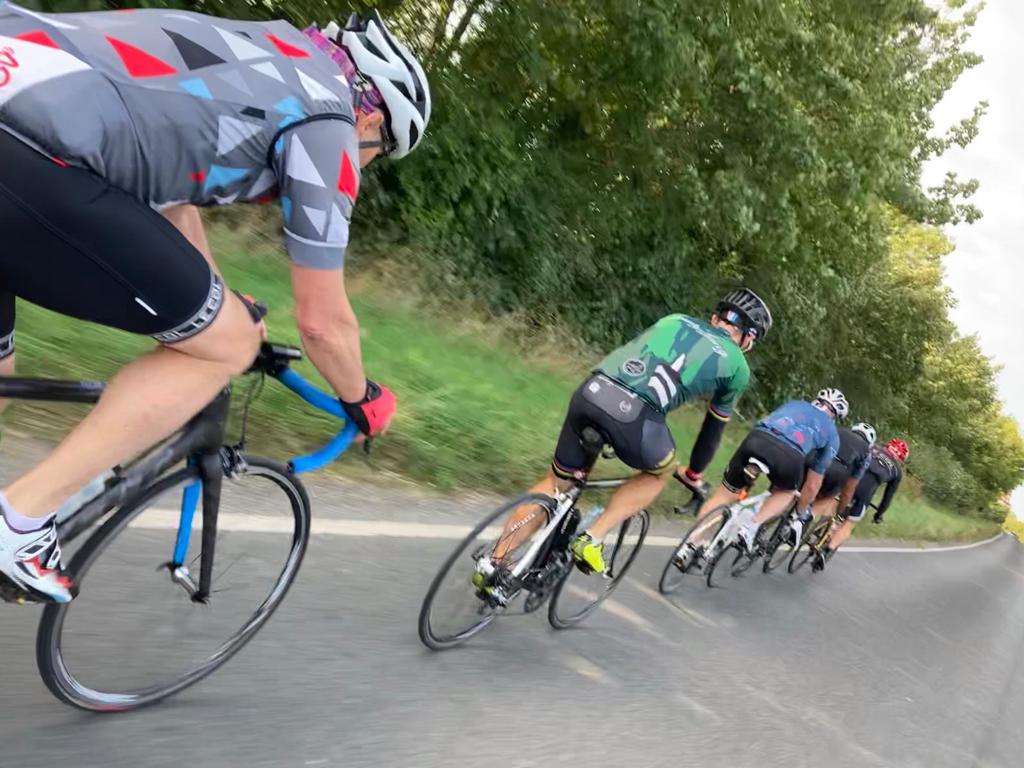 This worked very well, as the kilometres ticked away steadily until our next stop in Overton, around 200k, all starting to feel weary and glad of the refuel at the local Tesco.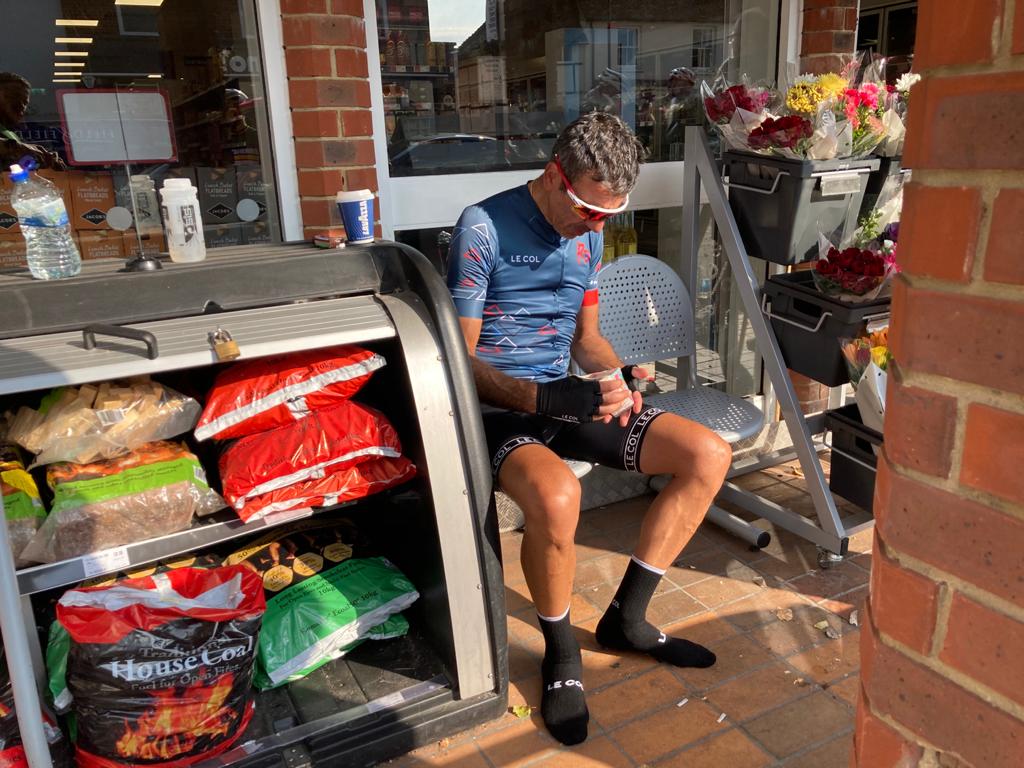 The route continued to Farnham, where our chain gang started to split as some of us were feeling it on the climbs, and at this point parted company with Kim and Glen, who made their way south back towards Guildford.
The remaining 4 riders got organised and made great progress to our final refuel stop in Old Woking, where we took it in turns on the front, and managed to pick up the pace as the wind had died and Terry seemed to have found an extra burst of energy. I think I put a bit too much EPO in his Lucozade.
4 weary riders made it back through Cobham, and as Terry peeled off in Ashtead (he'll sleep well tonight) we had our final puncture as the sun went down - another damn pothole! No doubt Marcus B will give us a grilling about the merits of tubeless tyres.
We parted company in Epsom and went our separate ways, I finally got home around 8.30pm, making very short work of a sandwich and bowl of chips.
Total distance from Epsom to Epsom was 306km.
Superb day out, helped by fantastic weather and great club mates, will be doing more of the same in the future, watch this space.
Team MRB by Marcus Brueton - 300KM
Marcus Brueton, Andrew Whittle, Stu Coleman, Steve Winder, Andy C and N Cycles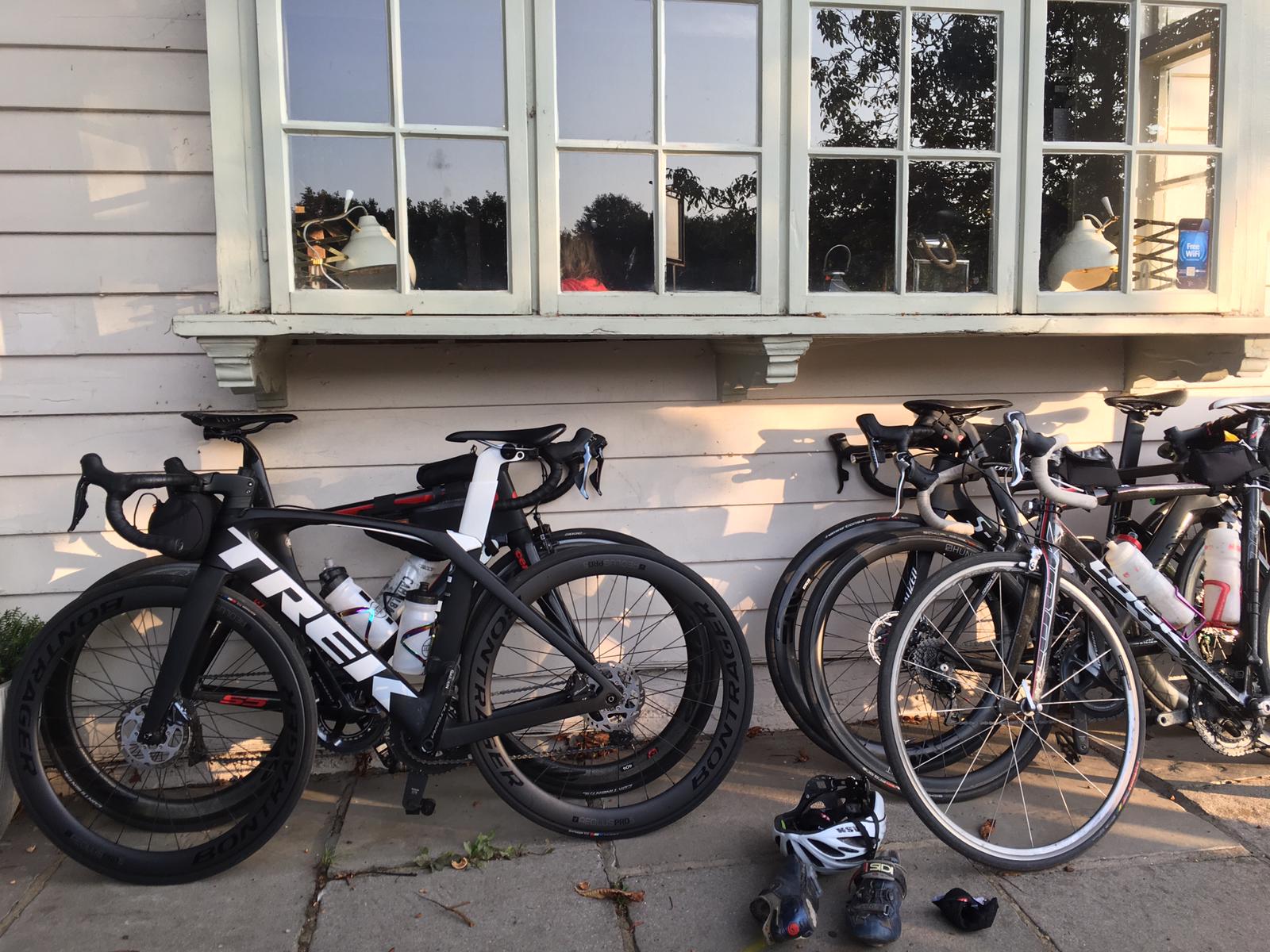 5 of us rode West to Salisbury taking the scenic route and some choice lanes before following the rivers north to Stonehenge. Return leg took us on a wiggly route crossing some Paragon Newbury Weekend roads before reaching N Waltham, Farnham and home again.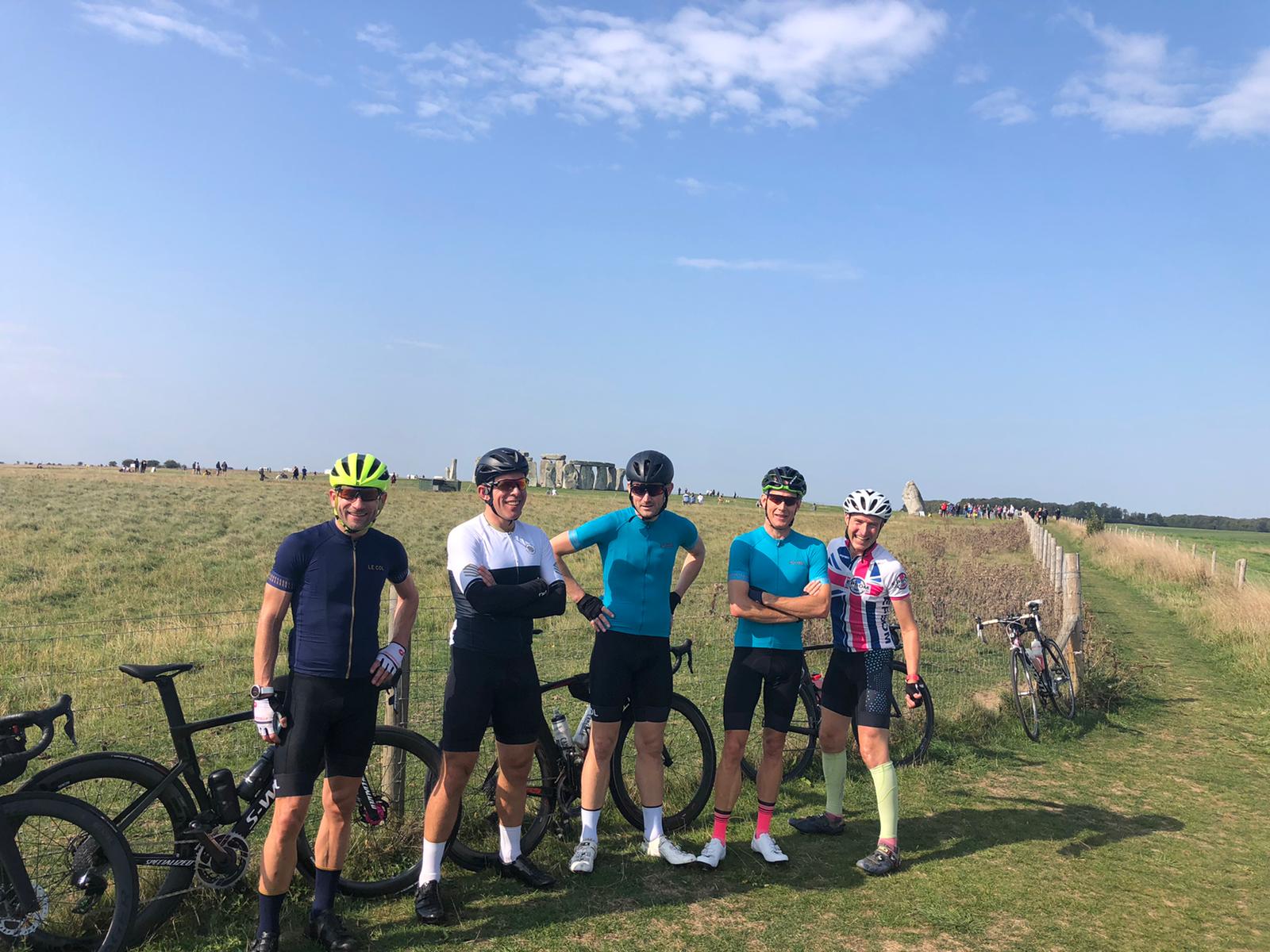 Another great day out with fine views and company featuring low-flying ducks (as signposted), picturesque thatched cottages, gravelly roads, Babs Cabs, random mannequins plus dirty ducklings and a suicidal squirrel.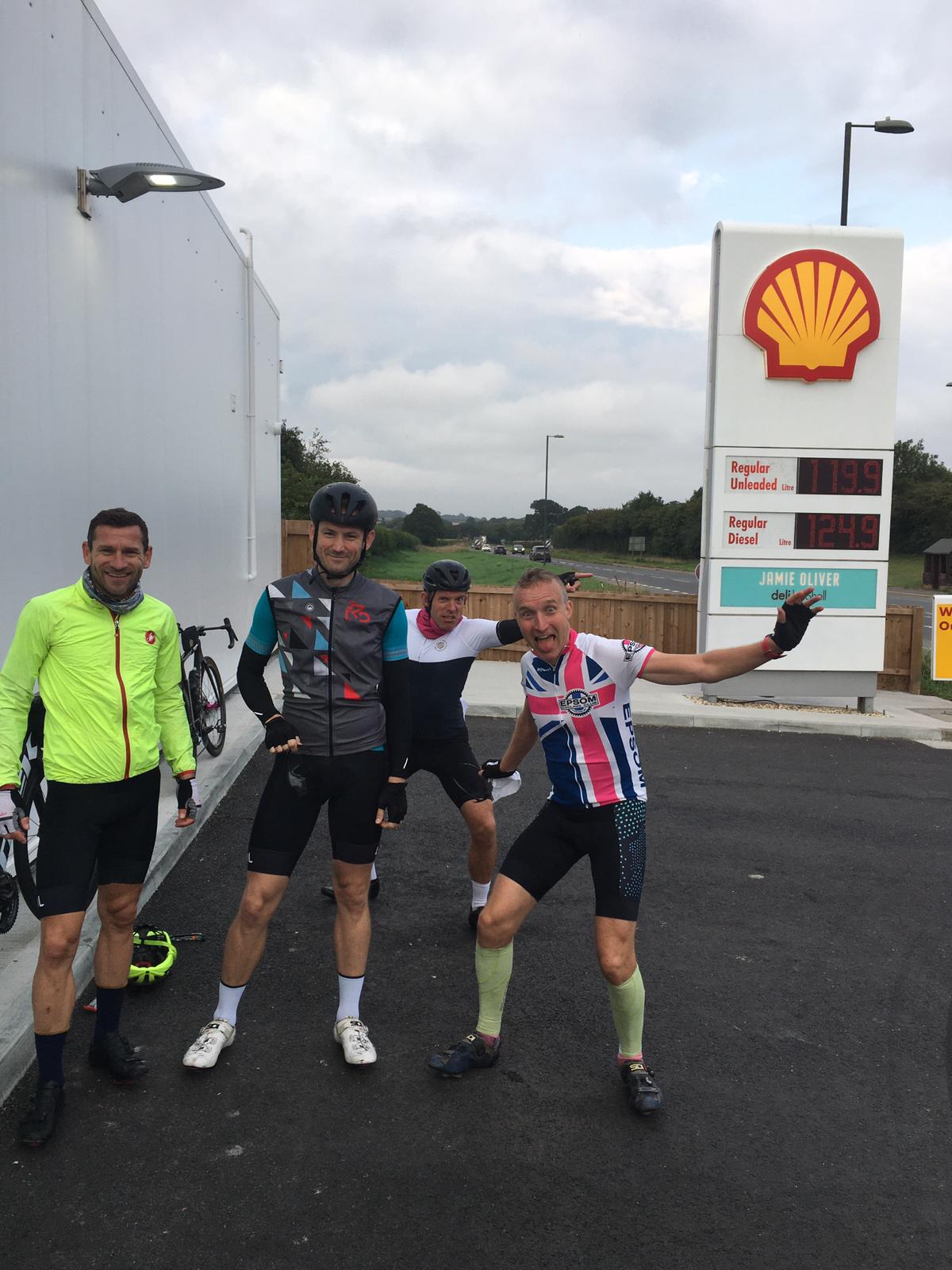 We had a good blast to the finish with Stu lighting the after burners to keep the pace high into the headwind. The beers at the pub in Epsom were most welcome and rounded off a great day out.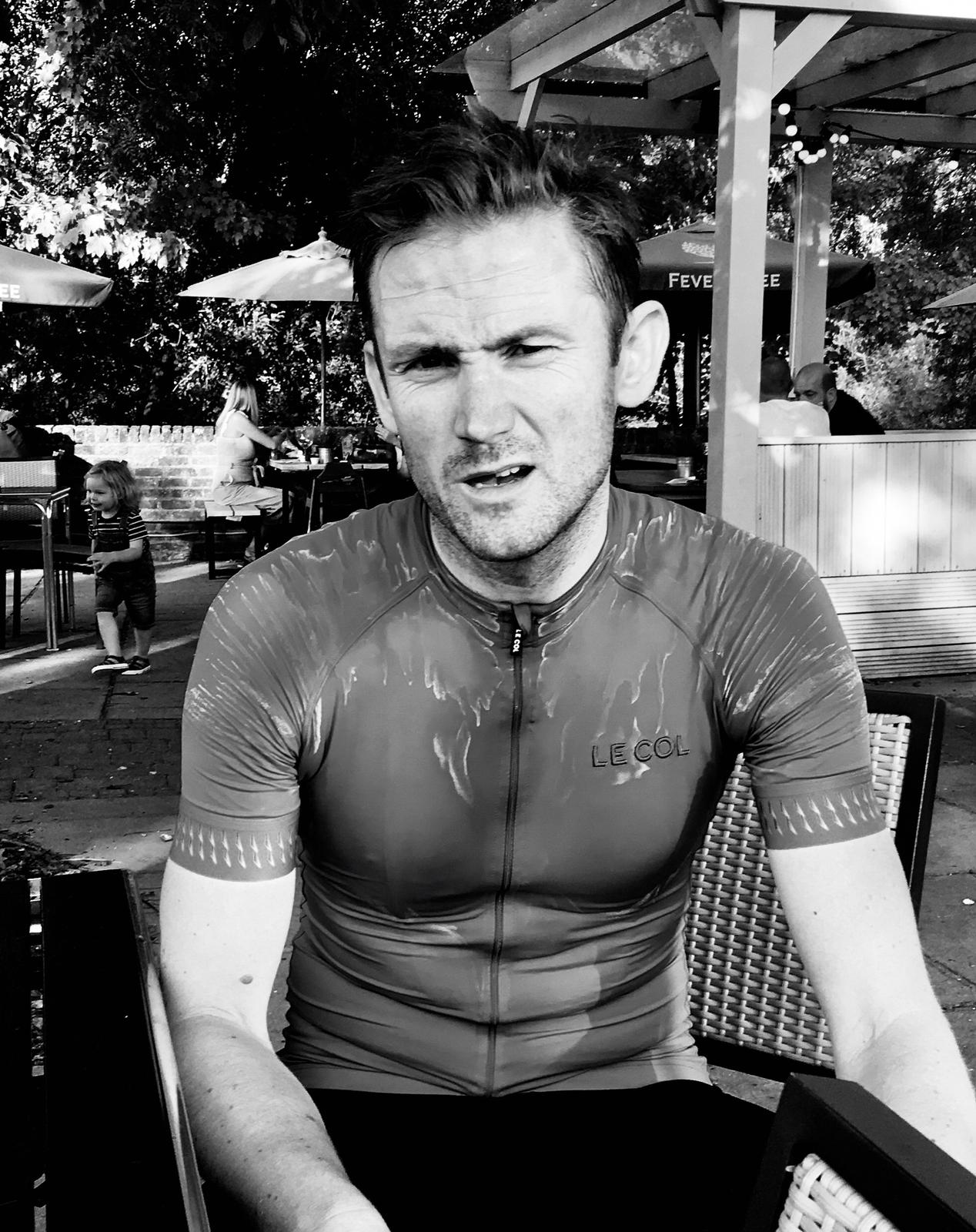 And Finally
I hope you enjoyed reading about the day as much as I did, I think someonementioned I got a puncture but I think I got away with it...thanks to all the contributors for the post.
It's now the end of summer, despite the difficulties of Covid-19 I'm sure you will all agree we've had some great times on the bike helped by some fantastic weather.
Let's hope we get a few more great rides in together before the years out, in case you don't know we have our own Hell of the Ashdown on the 4th October you can view it on Strava, and please join us if you can.
All the best and safe miles,
VP